8 Mistakes to Avoid in Your Fund Factsheet
Friday, June 23, 2017

One of the most important aims for a fund manager is to properly highlight their performance and provide adequate information about a program or a fund to impress potential investors. One way to inform investors about a fund is to create a well-designed fund factsheet.

For an investor it is important to know the fund strategy. A factsheet should also reflect how managers manage the fund and how they treat an investor's money. To be successful, your fund factsheet needs to briefly cover all these aspects.

If you want to impress and get new investors, follow these fund factsheet design tips to avoid basic mistakes.
1. Non-professional design
The design of your factsheet reflects your professionalism. A poorly designed factsheet may indicate your lack of interest and an indifferent attitude to your investor's money.

A well-designed factsheet provides a great snapshot of your information and performance data. It can reflect your attitude and attention to detail, which is one of the most important attributes when managing a fund.
2. Too many colors
Less is more when it comes to choosing colors for your factsheet. Stick to one color, or a maximum of two, when designing your factsheet. Your color(s) should correlate with your logo to adequately represent your company.

Choosing the right color(s) based on your company's logo makes your factsheet original and recognizable for potential investors. You can also use tones of your brand colors or opt for neutral tones such as grey, black and white.
3. Blurry logo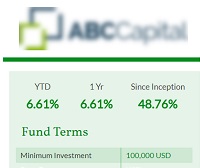 Your logo represents your company and can either provide a potential investor with a good or bad first impression. Representing your company with a pixelated logo is definitely not the right way to show off your company, fund or investment program.

Use only high-quality images and, once again, make sure that your factsheet color scheme correlates with your logo.
4. Too much information
You don't want to overshadow a beautifully designed factsheet with irrelevant or too much information. Your factsheet should provide an investor with basic and general information about the fund. You need to impress your clients and using long sentences can be detrimental.

To present your fund or investment program efficiently provide only a basic overview of your strategy. Ensure you also add information about the fund manager such as email address, phone number or website so investors can easily get in touch.
5. Not using a manager photo
Placing a photo on your factsheet will allow investors to put a face to the name of the fund manager. Most investors want to know who they are communicating with and most importantly who is taking care of their money.

Adding some information about the manager and their experience can also be beneficial and make a good impression on potential investors.
6. Unbalanced proportion of text, tables and charts
Use text, tables and charts, which should only show necessary data, carefully in your fund factsheet. Too many tables or charts can cause your factsheet to become confusing. Depending on the asset class you are trading, you should always choose relevant charts and tables which represents the data in a way that you can impress target investors.
7. Not distinguishing the backtested and live results
Mixing hypothetical and live results can provide investors with additional information. However, make sure you graphically distinguish between backtested and live results.
8. Not meeting the industry calculation standards
Using the correct methods for calculating statistics is also very important and managers should obey the industry standards. Accurate statistics provide a true reflection of how you approach trading and if you are honest with potential investors. Make a good impression with correctly calculated results, alternatively specify your calculations in the footer of your fund factsheet.
How to easily avoid these errors?
Are you afraid of making these mistakes in your fund factsheet? Do you want to easily create a well-designed report, which will impress your potential clients and investors?

From our experience in working with fund managers, investment advisors, brokers and other financial companies, Fundpeak knows how to avoid these fund factsheet mistakes.

Try out our TopSheets service now, where you can generate your own fund factsheets that are both beautifully designed and free of any common mistakes.

Create a Professional Fund Factsheet Now